We are thrilled to receive the "Law firm of the Year 2022" award from the collaboration of "MIT World Peace University" and the "Human Rights Foundation", New Delhi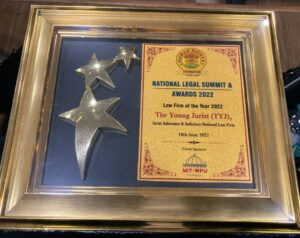 Our Jurist Ms. Nishtha Kansal has received this award on behalf of the Firm. The first vote of thanks goes to our Clients who supported us throughout the journey. Hoping to see such great support in the future also.
Thank you MIT-WPU and Human Rights Foundation for the nominations in the first place and we are thankful to the jury who chose us to become the Law firm of the Year 2022.
We would also take this opportunity to congratulate the other eminent winners from various legal industries including Abhijeet Tople | ATUL JUVLE | Luv Tanwani | Panduranga Acharya | Raj Dev Singh | Subhash Shete | Vivek N. Kuber | Prashant Marathe | Bipin Palekar | Nishant Nayan | ConsultCorp Legal Services
#MITWPU #MITWPUOfficial #MITWorldPeaceUniversity #WorldPeaceUniversity #IgnitingMinds #UnlockPotential #HigherEducation #Education #BestUniversity #TopUniversity #India #legalsummit2022 #Nationallegalsummitandawards2022 #collaborations #humanrightfoundation #discussions #panel #felicitations #legalprofessionals #legalteam #legal #law #lawfirm
Next Post
Legal Metrology Audit at Warehouse of Panasonic Life Solutions India Pvt. Ltd.