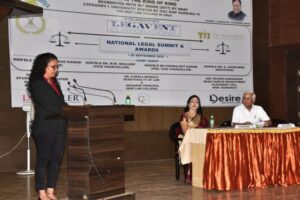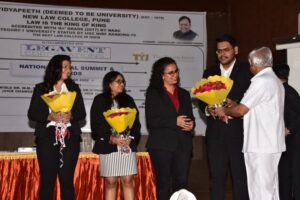 Greetings from The Young Jurist!
We are proud to have successfully sponsored the "National Legal Summit & Award 2022" at Bharati Vidyapeeth University, Pune with the support of "Rohitt Salwan Abhijeet Tople Raj Dev Singh ATUL JUVLE Subhash Shete Prashant Marathe Panduranga Acharya Anil PM Suhas Tuljapurkar Vivek N. Kuber Nishant Nayan Deepalakshmi Vadivelan SHILPA THAKUR Neha Satav Vaidehee Chhatre Adv. Rajesh Karanjkar Dr. Swapnil ChaturLegasis Private Limited ConsultCorp Legal Services Legal Funda Lawteller Magazine Legal Desire Legavent Corporations. Our Jurists, Ms.Vasundhara Asthana, Ms. Nishtha Kansal and Mr. Krishna Ramanathan represented The Young Jurist (TYJ) at the event.
Thanking you all of you for your immense support to make this as huge successful event of the year 2022.
Jai Hind!
Previous Post
Labour Arbitration and Commercial Arbitration: A Comparative Analysis - Authored by Krishna Ramanathan (Jurist)
Next Post
Legal Metrology Audit at STL - Sterlite Technologies Limited (STL), Silvassa, Daman